287266
Another Round (2020)
Synopsis
There is an obscure philosophical theory that humans should have been born with a small amount of alcohol in our blood; that modest inebriation opens our minds to the world around us, diminishing problems and increasing creativity. Intrigued, Martin (Mads Mikkelsen) and three of his friends, all weary high school teachers, embark on a risky experiment to maintain a constant level of intoxication throughout the workday. Initial results are positive, but as the units are knocked back and stakes are raised, it becomes increasingly clear that some bold acts carry severe consequences.
In cinemas July 9th.
Film Credits
Producer:
Sisse Graum Jørgensen
Kasper Dissing
Writer:
Thomas Vinterberg
Tobias Lindholm
Starring:
Mads Mikkelsen
Thomas Bo Larsen
Lars Ranthe
Maria Bonnevie
Magnus Millang
Susse Wold
More Information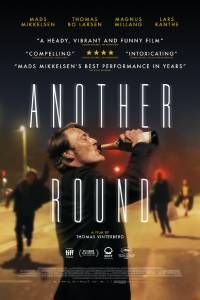 Rating:
12A
12A Certificate
Films classified 12A have been deemed appropriate for viewers of twelve and over. However, they can also be seen by younger children - provided they are accompanied by an adult who has deemed the film appropriate viewing for that child. In such cases, IFCO strongly recommends that parents/guardians make informed decisions by accessing the consumer advice available on this website.
Advisory:
infrequent strong language, moderate sex, substance abuse
Country:
Netherlands, Sweden, Denmark
Language:
Danish, Swedish