320923
Earwig and the Witch (2021)
Synopsis
Growing up in an orphanage in the British countryside, Earwig has no idea that her mother had magical powers. Her life changes dramatically when a strange couple takes her in, and she is forced to live with a selfish witch. As the headstrong young girl sets out to uncover the secrets of her new guardians, she discovers a world of spells and potions, and a mysterious song that may be the key to finding the family she has always wanted.
More Film Info
Based on the children's novel by Diana Wynne Jones (Howl's Moving Castle), the latest film from the legendary Studio Ghibli (Spirited Away, My Neighbor Totoro, Princess Mononoke and more) is directed by Goro Miyazaki (From Up on Poppy Hill, Tales from Earthsea) and produced by studio co-founder Toshio Suzuki, with planning on the feature from Academy Award®-winner Hayao Miyazaki. Featuring the voices of Richard E. Grant, Kacey Musgraves and Dan Stevens, Earwig and the Witch additionally features an English language theme song performance by six-time Grammy Award-winner Kacey Musgraves.
Film Credits
Starring:
Kacey Musgraves
Richard E. Grant
Taylor Paige-Henderson
Dan Stevens
Vanessa Marshall
More Information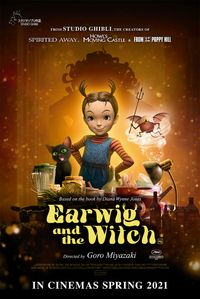 Rating:
PG
Parental Guidance Suggested. Some Material May Not Be Suitable For Children.
A PG-rated motion picture should be investigated by parents before they let their younger children attend. The PG rating indicates, in the view of the Rating Board, that parents may consider some material unsuitable for their children, and parents should make that decision. The more mature themes in some PG-rated motion pictures may call for parental guidance. There may be some profanity and some depictions of violence or brief nudity. But these elements are not deemed so intense as to require that parents be strongly cautioned beyond the suggestion of parental guidance. There is no drug use content in a PG-rated motion picture.
Earwig and the Witch (2021)