Synopsis
The first in a series of four Lethal Weapons. Mel Gibson plays an emotionally off-balanced undercover cop. His partner, Danny Glover, is good valued family man. The two opposite personalities become embroiled in a series of tense and exciting situations.
Film Credits
Producer:
Jennie Lew Tugend
Joel Silver
Richard Donner
Starring:
Danny Glover
Gary Busey
Mitchell Ryan
Darlene Love
Mel Gibson
Tom Atkins
More Information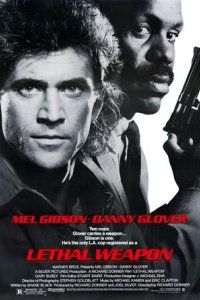 Rating:
18
Suitable only for adults
No one younger than 18 may see an 18 film in a cinema. No one younger than 18 may rent or buy an 18 rated video work. Adults should be free to choose their own entertainment.
Genres:
Action/Adventure
Comedy
Drama
Suspense/Thriller