Synopsis
In No Time To Die, Bond has left active service and is enjoying a tranquil life in Jamaica. His peace is short-lived when his old friend Felix Leiter from the CIA turns up asking for help. The mission to rescue a kidnapped scientist turns out to be far more treacherous than expected, leading Bond onto the trail of a mysterious villain armed with dangerous new technology.
Film Credits
Producer:
Barbara Broccoli
Michael G. Wilson
Writer:
Cary Joji Fukunaga
Neal Purvis
Robert Wade
Phoebe Waller-Bridge
Starring:
Rami Malek
Ben Whishaw
Christoph Waltz
Daniel Craig
Léa Seydoux
Jeffrey Wright
Ralph Fiennes
Naomie Harris
Lashana Lynch
More Information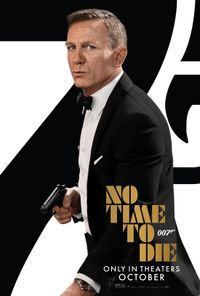 Rating:
12A
Suitable for 12 years and over
Films classified 12A and video works classified 12 contain material that is not generally suitable for children aged under 12. No one younger than 12 may see a 12A film in a cinema unless accompanied by an adult. Adults planning to take a child under 12 to view a 12A film should consider whether the film is suitable for that child. To help them decide, we recommend that they check the Ratings info for that film in advance. No one younger than 12 may rent or buy a 12 rated video work.
Country:
United Kingdom, United States
Language:
English, Spanish, French, Russian, Italian
Released:
30 September 2021
Genres:
Action/Adventure
Suspense/Thriller