Synopsis
In the comedy thriller, a small town comes under siege by zombies. Who can the town call? Only misunderstood local boy Norman, who is able to speak with the dead. In addition to the zombies, he'll have to take on ghosts, witches and, worst of all, grown-ups, to save his town from a centuries-old curse. But this young ghoul-whisperer bravely summons up all that makes a hero - courage and compassion - as he finds his paranormal activities pushed to their otherworldly limits.
Film Credits
Producer:
Travis Knight
Arianne Sutner
Starring:
Tucker Albrizzi
Casey Affleck
Jodelle Ferland
Anna Kendrick
Christopher Mintz-Plasse
Kodi Smit-McPhee
Leslie Mann
John Goodman
More Information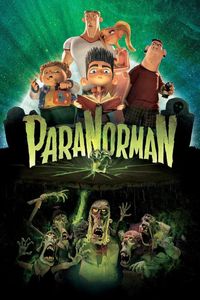 Rating:
PG
Parental Guidance Suggested. Some Material May Not Be Suitable For Children.
A PG-rated motion picture should be investigated by parents before they let their younger children attend. The PG rating indicates, in the view of the Rating Board, that parents may consider some material unsuitable for their children, and parents should make that decision. The more mature themes in some PG-rated motion pictures may call for parental guidance. There may be some profanity and some depictions of violence or brief nudity. But these elements are not deemed so intense as to require that parents be strongly cautioned beyond the suggestion of parental guidance. There is no drug use content in a PG-rated motion picture.
Genres:
Action/Adventure
Animation
Comedy
Family
Event Cinema
Suspense/Thriller