Synopsis
Sing Street takes us back to 1980s Dublin where the recession forces 14-year-old Cosmo out of his comfortable private school and into survival mode at the inner-city public school where the kids are rough and the teachers are rougher. He turns to music and forms a ragtag band, shooting scrappy music videos, and finding refuge and love with the beautiful 16-year-old Raphina.
More Film Info
1. The Irish feel-good film of the year. 2. Luscious 80s synth-pop soundtrack. 3. Jay-Z was such a big fan he emailed director John Carney to say he loved the movie.
Film Credits
Producer:
Paul Trijbits
John Carney
Kevin Scott Frakes
Martina Niland
Raj Brinder Singh
Anthony Bregman
Christian Grass
Starring:
Aidan Gillen
Lucy Boynton
Maria Doyle Kennedy
Ferdia Walsh-Peelo
Jack Reynor
More Information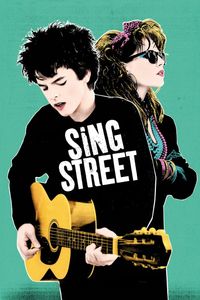 Rating:
12A
Suitable for 12 years and over
Films classified 12A and video works classified 12 contain material that is not generally suitable for children aged under 12. No one younger than 12 may see a 12A film in a cinema unless accompanied by an adult. Adults planning to take a child under 12 to view a 12A film should consider whether the film is suitable for that child. To help them decide, we recommend that they check the Ratings info for that film in advance. No one younger than 12 may rent or buy a 12 rated video work.
Country:
United Kingdom, Ireland, United States
Genres:
Comedy
Drama
Musical
Romance