Synopsis
Sing Street takes us back to 1980s Dublin where the recession forces 14-year-old Cosmo out of his comfortable private school and into survival mode at the inner-city public school where the kids are rough and the teachers are rougher. He turns to music and forms a ragtag band, shooting scrappy music videos, and finding refuge and love with the beautiful 16-year-old Raphina.
More Film Info
1. The Irish feel-good film of the year. 2. Luscious 80s synth-pop soundtrack. 3. Jay-Z was such a big fan he emailed director John Carney to say he loved the movie.
Film Credits
Producer:
Paul Trijbits
John Carney
Kevin Scott Frakes
Martina Niland
Raj Brinder Singh
Anthony Bregman
Christian Grass
Starring:
Aidan Gillen
Lucy Boynton
Maria Doyle Kennedy
Ferdia Walsh-Peelo
Jack Reynor
More Information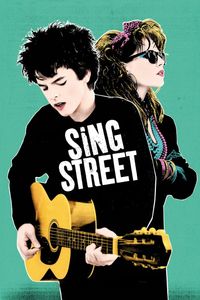 Rating:
PG-13
Parents Strongly Cautioned. Some Material May Be Inappropriate For Children Under 13.
A PG-13 rating is a sterner warning by the Rating Board to parents to determine whether their children under age 13 should view the motion picture, as some material might not be suited for them. A PG-13 motion picture may go beyond the PG rating in theme, violence, nudity, sensuality, language, adult activities or other elements, but does not reach the restricted R category. The theme of the motion picture by itself will not result in a rating greater than PG-13, although depictions of activities related to a mature theme may result in a restricted rating for the motion picture. Any drug use will initially require at least a PG-13 rating. More than brief nudity will require at least a PG-13 rating, but such nudity in a PG-13 rated motion picture generally will not be sexually oriented. There may be depictions of violence in a PG-13 movie, but generally not both realistic and extreme or persistent violence. A motion picture's single use of one of the harsher sexually-derived words, though only as an expletive, Classification and Rating Rules Effective January 1, 2010 8 initially requires at least a PG-13 rating. More than one such expletive requires an R rating, as must even one of those words used in a sexual context. The Rating Board nevertheless may rate such a motion picture PG-13 if, based on a special vote by a two-thirds majority, the Raters feel that most American parents would believe that a PG-13 rating is appropriate because of the context or manner in which the words are used or because the use of those words in the motion picture is inconspicuous.
Country:
United Kingdom, Ireland, United States
Genres:
Comedy
Drama
Musical
Romance