27498
Star Trek: First Contact
Synopsis
Capt. Picard and his crew pursue the Borg back in time to stop them from preventing Earth from initiating first contact with alien life.
Film Credits
Producer:
Rick Berman
Martin Hornstein
Peter Lauritson
Writer:
Brannon Braga
Rick Berman
Ronald D. Moore
Starring:
LeVar Burton
Jonathan Frakes
Brent Spiner
Michael Dorn
Patrick Stewart
More Information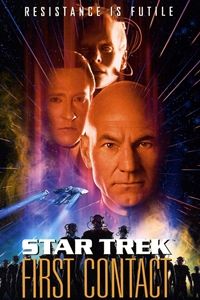 Rating:
12
Suitable for 12 years and over
Films classified 12A and video works classified 12 contain material that is not generally suitable for children aged under 12. No one younger than 12 may see a 12A film in a cinema unless accompanied by an adult. Adults planning to take a child under 12 to view a 12A film should consider whether the film is suitable for that child. To help them decide, we recommend that they check the Ratings info for that film in advance. No one younger than 12 may rent or buy a 12 rated video work.
Released:
22 November 1996
Genres:
Action/Adventure
SciFi/Fantasy
Suspense/Thriller