Synopsis
A young boy lies awake in his room one snowy Christmas Eve, excited and alert. Breathing silently. Hardly moving. Waiting. He's listening for a sound he's afraid that he might never hear--the ringing bells of Santa's sleigh. The time is five minutes to midnight. Suddenly, a thunderous roar startles the boy. Clearing the mist from his window he sees the most amazing sight--a gleaming black train rumbles to a stop right in front of his house, the steam from its powerful engine hissing through the night sky and the softly falling snowflakes. The boy rushes outside, clad only in his pajamas and slippers, and is met by the train's conductor who seems to be waiting just for him. "Well, are you coming?" the conductor inquires. "Where?" the boy asks. "Why, to the North Pole--of course. This is the Polar Express!" What unfolds is an adventure that follows a doubting young boy, who takes an extraordinary train ride to the North Pole; during this ride, he embarks on a journey of self-discovery that shows him that the wonder of life never fades for those who believe.
Film Credits
Director:
Robert Zemickis
Robert Zemeckis
Producer:
Steve Starkey
Gary Goetzman
Robert Zemeckis
William Teitler
Writer:
Malia Scotch Marmo
Malia Scotch
Chris Van Allsburg
William Broyles Jr.
Robert Zemeckis
Starring:
Chris Coppola
Tom Hanks
Josh Hutcherson
Nona Gaye
Michael Jeter
Peter Scolari
Eddie Deezen
More Information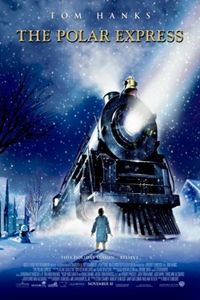 Rating:
U
Universal - Suitable for all
A U film should be suitable for audiences aged four years and over, although it is impossible to predict what might upset any particular child. U films should be set within a positive framework and should offer reassuring counterbalances to any violence, threat or horror. If a work is particularly suitable for pre-school children, this will be indicated in the BBFCinsight.
Released:
10 November 2004
Genres:
Action/Adventure
Animation
Drama
Family
SciFi/Fantasy